Gear review: Patagonia Micropuff jacket
Well, I just finished another trip (report coming soon!) and was yet again reminded that the
Patagonia Micropuff Jacket
may be the ultimate clothing item. There are a sundry of reasons for this (interspersed with some of my favorite micropuff memories!):

1) Instant comfort . . . there's nothing like stopping for a break and eliminating the chill by throwing on the puffball. It feels so warm and cozy, whether it's rain, snow, or wind that you're trying to get out of!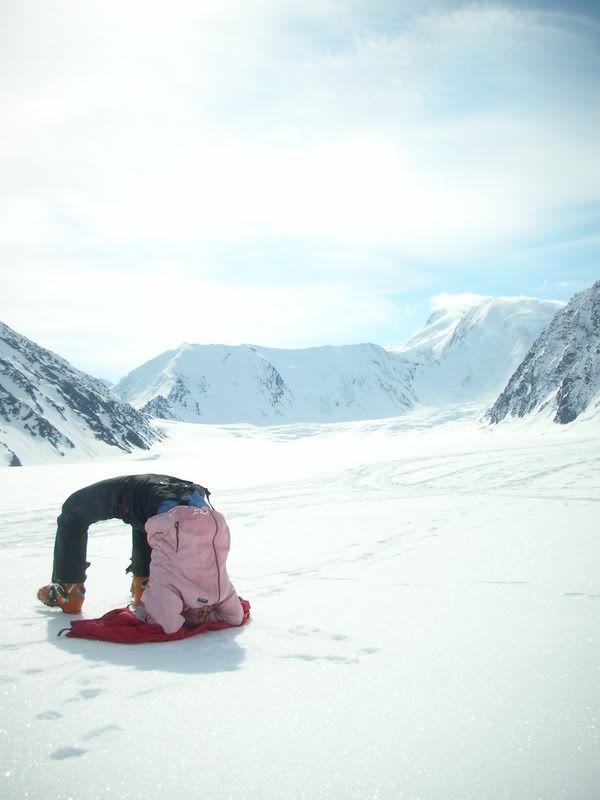 It also works great for backcountry yoga!
2) I use it all season backcountry skiing . . . hike in a t-shirt/windbreaker and throw the micropuff on for a comfortable rest before skiing, a good descending temperature, and a warm changeover for putting skins back on. It's also great to have a puffball in the pack for an emergency if it arises.

3) Packability. So easy to stuff in a dry bag or in a corner of the pack. It comes with a stuff sack, but I end up using this for other things usually :-)
Life is definitely more fun wearing powder pink, especially when you and your friends have matching coats!

4) Great pockets! The chest pocket is great for a lighter and knife, and there are nice big interior pockets to hold a warm nalgene, wet skins, or whatever else you can dream up!


The coat is an important part of any ensemble hoping to win an award for color!

5) The hood - need I say more?!!? Hoods are so darn versatile I love them! The only problem is that they may make you look like a hoodlum if you're hitch hiking after your trip or day in the b/c! Having a powder pink micropuff helps with this issue!
Yes, I love this jacket so much that I bought a new one to have as backup for when my primary needes repairs! Total loser, I know, but I can't imagine a trip without this coat!
So, if you're looking for one coat that will make a sundry of situations significantly more pleasant, I recommend the Patagonia Micropuff jacket. Functional, stylish, comfortable, and just all-around great!
Labels: all my tuition money went straight to backcountry.com, Gear Review, Outdoor Products
0 comments